Community Reports
Franklin County HealthMap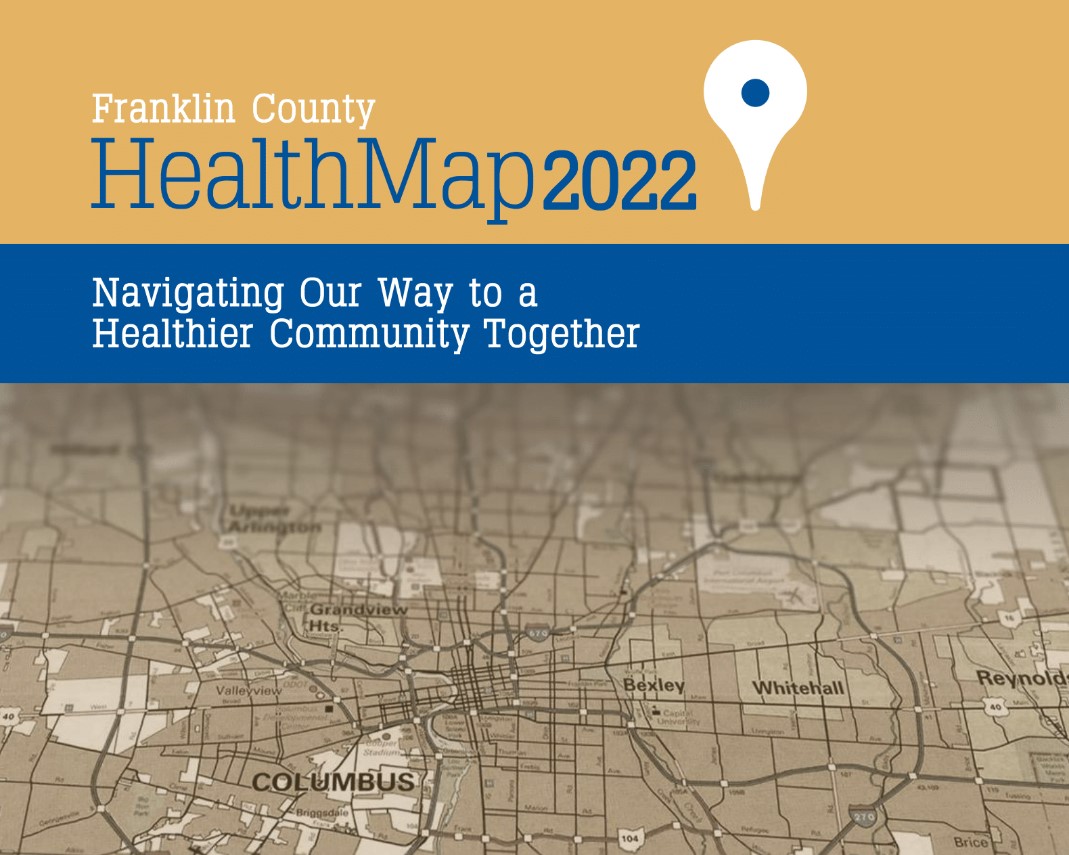 The Franklin County hospital systems and our local health departments  — Columbus Public Health and Franklin County Public Health —  have released a combined community health needs assessment. Franklin County HealthMap 2022 provides a comprehensive overview of our community's health status and needs.
Our organizations have collaborated, in partnership with dozens of community organizations (see list below), to analyze hundreds of health indicators and listen to our residents' health concerns through a series of focus groups. HealthMap 2022 provides our hospitals, our health departments and other community organizations with an important tool to better understand the health needs and priorities of our residents. Through this collaborative work, we learned:
Many Franklin County residents lack access to basic living needs, such as safe, affordable housing and nutritious food, and it is negatively affecting their health. Feeling safe from crime is critical to a healthy community because it benefits mental health and physical activity.
Health disparities due to racial and ethnic discrimination result in gaps in health outcomes. Our residents of color are concerned about access to quality medical services. These concerns reinforce declarations of our health departments that racism is a public health crisis and our need for commitment to equity.
Poor mental health, exacerbated by a lack of access to mental health care services, is an issue for many residents. Existing mental health services may be underutilized due to stigma associated with seeking help.
A high number of infants are dying in our community before they reach their first birthday. Pre-pregnancy and prenatal health of women are areas of focus if we are to reduce our infant mortality rate in Franklin County.
Other health issues raised in the report include the need to increase cancer screening and physical activity and decrease tobacco use (especially among youth), firearm injuries and incidents of sexually transmitted disease.
The HealthMap helps drive initiatives that improve individual and community health and serves as a guide to target and prioritize resources, strengthen community relationships, and provide information that contributes to keeping people healthy. The report covers social determinants of health, health resource availability, behavioral health, wellness care, maternal and child health, oral health, mental and social health, infectious diseases, youth issues, and death, illness and injury.
COHC and our health departments now turn to addressing priority areas through a collective impact model. As leading health organizations in our community, we are working to better align our health improvement efforts. As we have done in the past, in areas such as infant mortality and drug overdoses, our hospitals and health departments are working to better coordinate efforts to address our community's most pressing health needs. We will reach out to community organizations, state and local elected officials and other community leaders that serve, care for and support our residents to join us in this work.
Franklin County Community Health Needs Assessment Steering Committee Membership
ADAMH Board
Central Ohio Area Agency on Aging
Central Ohio Hospital Council
Central Ohio Trauma System
Columbus Public Health
Educational Service Center
Equitas Health
Ethiopian Tewahedo Social Services
Franklin County Department of Job and Family Services
Franklin County Public Health
Human Services Chamber
Life Expectancy Taskforce
Mid-Ohio Food Collective
Mid-Ohio Regional Planning Commission
Mount Carmel Health System
Nationwide Children's Hospital
Ohio Asian American Health Coalition
Ohio Department of Health Disability and Health Program
Ohio Hispanic Coalition
OhioHealth
PrimaryOne Health
The Ohio State University College of Public Health
The Ohio State University Wexner Medical Center
United Way of Central Ohio
Veteran's Service Commission
Workforce Development Board