Community Reports
Community Benefit
The Central Ohio Hospital Council periodically conducts an analysis of the combined community benefit provided by the Franklin County hospital systems. The 2022 community benefit report, "Investing in a Healthier Central Ohio," shows:
Franklin County's not-for-profit hospitals provided more than $936 million in total community benefit in 2020. These community benefit activities include:
Caring for individuals without insurance or those served by the Medicaid program, which reimburses hospitals far below the cost of providing care. Since 2014, when Medicaid expansion took effect in Ohio, Franklin County hospitals have seen a 20% decrease in the amount of free care provided and a 163% increase in losses in Medicaid reimbursement.
Franklin County hospitals have provided $3.4 billion in uncompensated care over the last 10 years.
Franklin County hospitals' uniform charity care policy ensures that all residents receive free, medically necessary hospital care if their annual family incomes are under $53,000 for a family of four. These patients do not receive a bill for their care.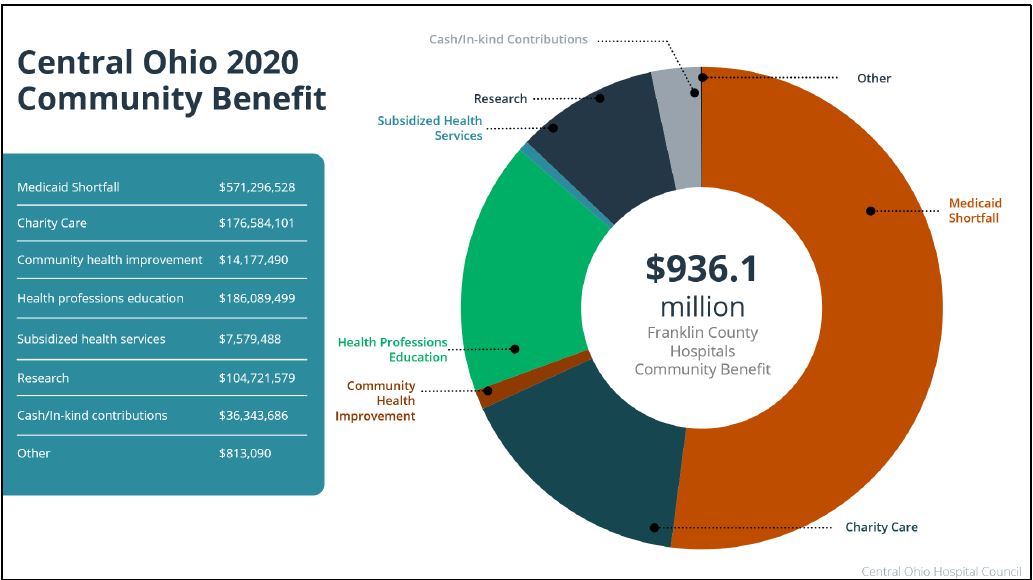 Central Ohio's not-for-profit hospitals are recognized as tax exempt by the Internal Revenue Service as a result of the substantial amount of benefit they provide to our community. Instead of paying income or property taxes, central Ohio hospitals reinvest their earnings in services and activities that improve the health of central Ohio residents. Community benefit expresses a nonprofit hospital's charitable mission and is the legal standard for 501(C)3 tax exemption.
Under IRS regulations, community benefit includes Medicaid shortfalls, charity care, community health improvement services, health professions education, subsidized health services, research, and cash and in-kind contributions.